Housed in a historic building, Located on the picturesque banks of river Jhelum, Goodfellas is a cosy hobby hub of artists, writers and poets, a place that is a blend of perfect food, art and entertainment. Old wood-carved windows with lattice work, and other elements from Kashmiri architecture contoured with modern and contemporary artworks are as beautiful a treat to the eyes as is their food for the tongue.
The cafe has an eclectic menu, quick service, a decor with Kashmiri elements and walls adorned with the works of school kids from remote areas of Kashmir. And it also has something that is rare here – a reliable WiFi connection.
A frequent host to art shows, gaming events, story sessions, and poetry slams, Goodfellas also serves a variety of food that includes home-baked pastries and nun chai (a pink-coloured salt tea popular among locals).
The motive of opening the cafe is to provide an outlet to young artists who want to showcase their talent. A place where u visit once and it becomes a favorite for life.
Goodfellas cafe srinagar
Address: The Bund, Residency Road, Srinagar, Jammu and Kashmir
Contact: +91 959-635-5455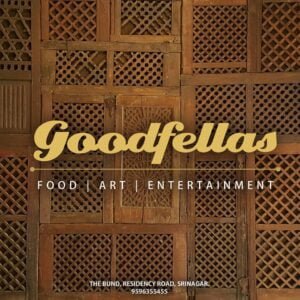 We are sorry that this post was not useful for you!
Let us improve this post!
Tell us how we can improve this post?